Description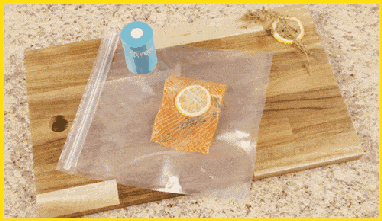 Seal and save money and food with the Always Fresh Vacuum Food Sealer that quickly removes air, sealing in freshness. Easy one touch operation.
Ordinary fail and zipper bags trap air in ruining your food and wasting your money. Always Fresh bags are designed with a special one way valve that allows air to be vacuumed out and seals freshness in…prolonging the flavor, nutrition and shelf life of your food.
Always fresh bags feature a double reinforced double-zip for an airtight seal. They are made from durable, reusable material. They are freezer safe and BPA free.
Great for everyday use with deli meats, cheese and other refrigerated foods.
Perfect for freezing meats, fruits, veggies, storing pre-made meals and side dishes or marinating foods.
Conveniently stores in a draw for easy access.
So stop wasting money and food! Now you can lock in freshness and preserve your favorite foods with the Always Fresh Seal Vac.
Uses 3 AAA batteries (not included).
Includes Seal Vac, four 1-qt. reusable bags, 2 1-gal. reusable bags, meal prep and recipe guide.