Description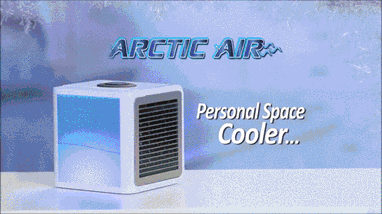 Introducing Arctic Air, the compact, eco-friendly personal air conditioner that keeps you cool indoors or out! Arctic Air cools, humidifies, and cleans the dust particles for better air!
It's so simple to set up and use – just pour water in the tank, plug it in and enjoy! Arctic Air is an evaporative air cooler that allows you to create your own personal climate. Once turned on, Arctic Air can cool a 45 sq. ft. area.
Arctic Air takes hot and dry air and makes it cool and moist, without freon or any other toxic coolants. Safe and eco-friendly. Other AC systems use a lot of power to try and cool an entire house or building, which is very costly! This personal space air conditioner actually cools the air around you, where you need it most, while using the size and power consumption of a small fan!
Its sleek compact design fits nicely on your desk, nightstand or coffee table – wherever you need it! Arctic Air great for dens, reading nooks, work, dorm rooms, offices, home offices, campers, work spaces, benches, basements, garages and more! It's even convenient for travel! Includes AC adapter, and also works with any micro USB cable.