Description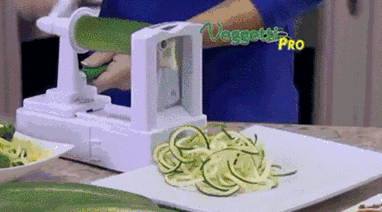 Put a healthy twist on one of your favorite family dinners, with delicious pasta made from veggies with the Veggetti Pro. Enjoy the mouthwatering taste of spaghetti without all the carbs thanks to this versatile, multi-tasking kitchen tool. Just slide in the customized blade, insert your veggies or fruits and turn the handle for delicious results in seconds.
From fettuccine to spiral salads to crispy potato chips, this device can make your food prep extra fun and your meals super healthy. The Veggetti Pro comes with three interchangeable stainless steel blades, for thin, thick or ribbon pasta, and has a nonslip suction cup base that keeps the Veggetti Pro still for confident cutting.
Cut calories and have pasta on a gluten free diet with this amazing accessory. Use on carrots, radishes or cabbage for a beautiful, delicious salad or spiral slice sweet potatoes for crispy, healthy fries.
The tool is dishwasher safe and comes with a recipe book to get you started. The healthy meal possibilities are endless with the convenient Veggetti Pro.
Set includes:Veggetti Pro machine,Thin Spiral Blade for thin pasta strands, hash browns, garnishes, etc.Thick Spiral Blade for thick pasta strands, pasta salads, coleslaw, etc. Ribbon Blade for potato chips, onion rings, apple slices, etc. Recipe Guide
Details:Breaks down easily for space-saving storage, Dishwasher safe, Nonslip Suction Cup Base, Easy-to-turn handle