Description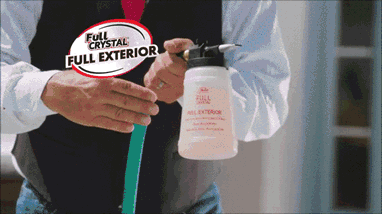 If you loved Full Crystal Window Cleaner, you'll really love Full Exterior – your TOTAL outdoor cleaner!
Full Exterior cleans aluminum, vinyl, brick, wood, stucco, and so much more. Use it on siding, gutters, patio furniture, shutters, fences, cars, trucks, boats, RV's, screens, swing sets, and just about everything else you can think of.
And, just like Full Crystal Window Cleaner, you just aim, spray, and walk away.
This amazing cleaner is easy just add crystals to the sprayer bottle attach to your garden hose, spray and rinse off. Blast through dirt and grime. Cleans right through screens, bird dropping, insects and more.
No more ladders or struggling to get behind bushes, just stand back, spray and rinse. Even two story homes aren't a problem, since the spray reaches up to 27 feet with 60 lbs. of pressure.
Safe for plants, bushes, and grass.