Description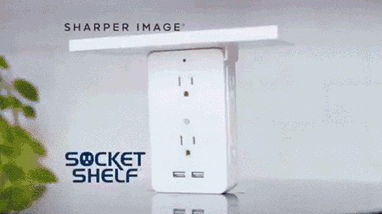 SOCKET SHELF is the incredible new wall outlet expander that adds a shelf to any outlet for clutter free counters.
It features a built-in storage shelf keeping all your electronics safe, organized and fully charged. Plus, it QUADRUPLES your power with 6 outlets and 2 USB ports! SOCKET SHELF can be used on any standard outlet, with no installation required.
Keep toothbrushes and toothpaste within kids™ reach while keeping bathroom countertops clean. Perfect for following recipes in the kitchen, keeping your phone close and charged in the bedroom or the garage. SOCKET SHELF is UL listed with surge protection and has a 180 degree outlet design, so it™s easy, safe, and convenient.
Holds up to 10 Lbs.