Description
Prepare Holiday gifts in advance, This trimmer is a must-have for every man
Here's the best CLOSE-CUTTING, carbon-steel T-blade trimmer for hair outlining, designing, and dry shaving.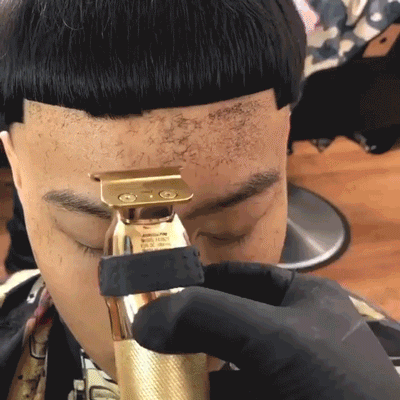 The Gold Knight close-cutting trimmers are a must-have for detail work on hair, beards, and mustaches. Ability to trim your beard and hair quickly and cleanly. You can use it to create any style.
Cordless Hair Cutter – Mini cordless hair clipper makes it easy for you to self hair cutting, suitable for both adults and children to use safely.
Best gifts for men/dad/husbands/boyfriends/women/moms for 🎁Father's Day, Thanksgiving, Christmas, New Year and other holidays for haircutting and beard trimming. Get your family looking great and save money.
FEATURES
Easy to hold in hand this will be the only trimmer you will ever need in your arsenal.
Fast Charge: Environmentally friendly lithium battery,1200mah Large capacity battery
The Close-cutting, Titanium steel T-blade for lining, designing and dry shaving – Zero gapped
Powerful rotary motor for increased speed, power, and life
Features constant speed technology; won't drag or stall through heavy and thick hair types
2022 New T9 LED Hair Clipper
The all-aluminum body is engraved with exquisite patterns, the large LED screen displays the power, has 3-speed speed adjustment, and is equipped with Type C fast charging, it is your best choice for the new year!
Product details:
Product: rechargeable clipper
Input Voltage: AC 110-240V 50/60Hz
Charging time: 3 hours
Useing time: 180min
weight:about 240g
Package list:you will get1Pcs* hair trimmer, 1Pcs* brush, 4Pcs* limit comb(1.5MM 2MM 3MM 4MM) and 1Pcs*USB Charger
Due to air transportation restrictions, liquids cannot be transported, so oil bottles are not included in the package, please be aware.
Alloy cutter head + 4 limit combs
The rounded design of the T9 head and positioning comb section ensures safe contact with the skin, protects the scalp from injury, is non-stick and non-irritating when cutting or shaving, provides accurate and consistent performance, and easily becomes your own hairdresser.
USB charging + LED display
The hiena hair clipper adopts a more convenient USB charging port, which makes charging more convenient and fast. The machine has a more comprehensive LED display, which can display the power and speed of the machine in real time
Powerful motor + Ergonomic design
The hiena clipper uses a powerful motor, stable and efficient, suitable for any type of hair. Anti-slip texture engraving design on the surface of the fuselage and one-button key design on the fuselage, easy to hold and control
Big battery + Just the right size
Using a 1500mAh large-capacity lithium battery, for example, a haircut is calculated by half an hour, twice a month, so the Hiena hair clipper can be used for 3 months with a full charge. The hiena hair clipper has a blade length of 40mm and a body length of 150mm, which is easy to carry and can be used for haircut, carving, oiling, shaving and other operations.