Description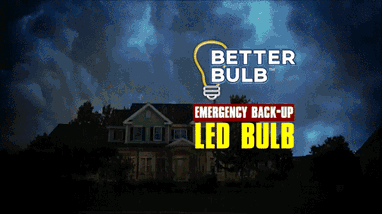 BetterBulb is an LED light bulb that works even when the power goes out.
Ordinary light bulbs draw a lot of power and only last for around 1,000 hours. BetterBulb is an LED light bulb that's the same size and shape as a regular bulb, but only uses 1/6th the power – and still works even if the power is out!
The secret is BetterBulb's internal battery, which charges itself up while the light is on and stays ready to use when power is unavailable. BetterBulb will still shine bright for up to 10 hours in the ON position with no power at all.
BetterBulb also comes with a handy carry handle with a built-in on/off switch, which you can use to hang the bulb for light wherever you need it. When it's not being used as a regular light bulb, it's perfect for camping, emergencies, or lighting the way in dark places.