Description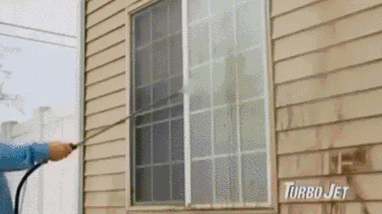 The Turbo Jet Power Washer turns any hose into a power washer! Blast away dirt, grime , mold from wood, aluminum and vinyl siding, concrete, brick stone and so much more.
Turbo Jet as seen on TV puts the power of a professional power washer in your hands! Simply connect the nozzle to any hose and you can instantly clean second floor windows, dirty decks, grimy patios, and mud that has been caked onto your car, instantly!
The secret is Turbo Jet's built-in pressure chamber that converts the normal flow of water in your hose into a powerful jet stream. The control valve allows you to adjustable the pressure and force of the jet stream. Made with durable aluminum and has a stainless steel finish with quality brass fittings.
Includes Turbo Jet, 1 Jet-Stream Nozzle and 1 Fan-Spray Nozzle.