Description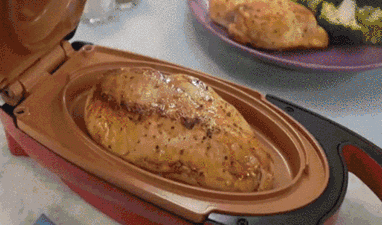 Red Copper 5 Minute Chef the amazing non-stick cooker that will cook your meal in 5 minutes or less. Place ingredients into the deep well, then flip the lid closed to cook both sides in minutes. As seen on TV Red Copper 5 Minute Chef's copper-infused surface heats evenly with features nonstick, anti-scratch technology.
Foods cook fast and evenly from top and bottom on the durable non-stick surface. Makes cooking meals faster than preheating the oven. And clean up is a breeze – jut wipe with damp cloth.
Great for omelets, chicken, burgers, sandwiches, desserts and more.