Description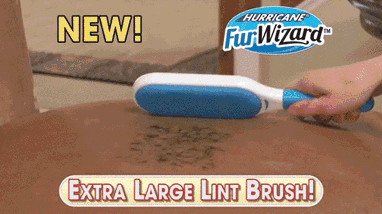 The Hurricane Fur Wizard removes pet fur and lint quickly and easily. Simply swipe to clean, dip into self-cleaning base remove fur and lint form brush! Now that's easy. As seen on TV Hurricane Fur Wizard's double-sided brush allows you to clean in half the time. No refills, no tape, no mess!
The secret is the thousands of micro bristles that act like fingers grabbing every last piece fuzz or fur.
Great for upholstered furniture, clothing, carpets, linen, pillow, fabric car seats and more.