Description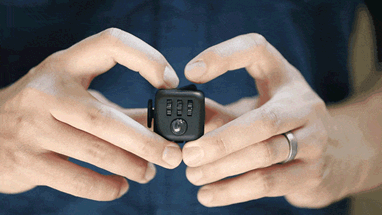 The Fidget Cube is an unusually addicting, high-quality desk toy designed to help you focus. Fidget at work, in class, and at home in style. Featuring 6 different sides you can click, flip and roll yourself into focus.
Beware of cheap counterfeits – we only stock the original Fidget Cube from Antsy Labs, the Kickstarter success story which raised more than $6.4 million!
Click. No need to click that pen anymore. You'll find 3 clicker buttons and 2 silenced buttons on this side design to satisfy the clicker in each of us.
Glide. You don't have to be a gamer to enjoy the unusually satisfying gliding action of this joystick.
Flip. Pivot this switch back and forth gently if you're looking to fidget silently, or quickly for a more audible click.
Roll. The gears and ball on this side are all about rolling movements (with the ball sporting a built-in click feature).
Breathe. Say goodbye to stress. The design of this face is inspired by traditional worry stones, tools used to reduce anxiety when rubbed.
Spin. Looking for a circular fidget? Take this dial for a spin.