Description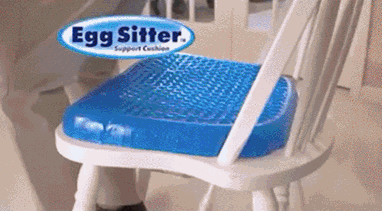 The Egg Sitter Support Cushion is the astonishingly comfortable cushion that will have you saying good bye to achy muscles and a stiff back caused by sitting.
Egg Sitter Support Cushion allows you to sit on a hard surface all day and still feel comfortable. Other support cushions need a gap in the center to cradle the tailbone – not Egg Sitter! Its honey comb design is made of ultra-flex polymer that stays cool to the touch and allows air to circulate. It collapses in on itself to absorb pressure points and alleviate pain.
It supports your back side and spine so well that you can sit on an egg without breaking it! Perfect for long car rides, the office or just sitting at home. Comes with washable removable cover.
* Strong and durable
* Unique honeycomb design allow proper air circulation
* Stays cool
* Retains shape
* Fits most chairs
Measure 15.5x14x1.5″