Description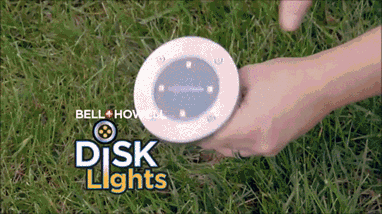 Decorate and protect your home with Bell + Howell Disk Lights. Disk Lights are the newest in portable powerful solar powered exterior lighting. You can now decorate your own home without having to pay a fortune.
Disk Lights require no wiring, they are super easy to use, just mount to the ground, and you are done. They are cost efficient because they utilize light conversion technology that absorbs the sun's energy in storage cells converting solar power to electricity.
Each Disk Light contains ultra-bright LEDs that last over 10 years. They are waterproof, durable, made of stainless steel and tough enough to be run over by a lawn mower.
They turn on when the lights go down, giving you 10 hours of light and they turn off automatically. Or you can manually turn them off or on.
You can stake them on the ground, mount them with the hook and loop strips or place them on the floor or ground to deliver the right look to your home. Don't spend a thousand dollars or more creating beautiful cascades of light just use Disk Lights.
Perfect for lighting stairs and walkways for safe passage or adding a touch of elegance to you home.
Light dia. 4.5″