Description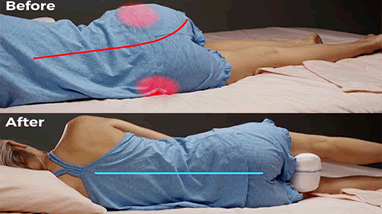 Relax in any position for a great nights sleep with the Contour Legacy Leg Pillow. Tapered edges and a concave center cradles your thighs and knees snugly, allowing you to move freely, change sleep positions, and bend your knees.
The Contour Legacy Leg Pillow is an orthopedic memory foam leg cushion that provides side sleepers comfort for their lower back, hips, legs & spine. By positioning you in your natural alignment, the leg pillow is designed to help alleviate pressure points that often cause discomfort & pain.
The one thing that makes the Contour Legacy Leg Pillow different than the rest, is our unique patented design to help side sleepers cushion not just their things & legs, but their knees too! By fully cushioning your thighs, legs and knees the Contour Legacy puts you in proper sleeping alignment. This prevents your back and hips from rotating that cause painful pressure points!
Made from a dough like memory foam for cushioning the support, the Contour Legacy Leg Pillow is the only leg pillow you need to give you all night comfort and support.