Description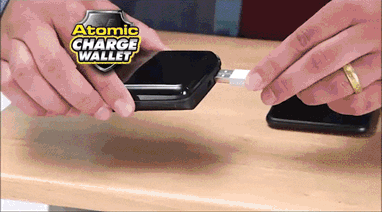 Atomic Charge Wallet is the wallet that charges your phone! Now when your phone starts to die just plug it into the Atomic Charge Wallet for a quick charge using the mini USB cable (included). Instantly doubles your phone's battery life.
As seen on TV Atomic Charge Wallet is so slim and light weight it fits easily into your pocket or purse. It has a sleek, durable aluminum casing that can resist drops and shocks.
It's lined with the latest RFID blocking technology so your credit cards will be safe form electronic thieves.
Features accordion design has 5 slots that easily holds your credit cards, cash photos, license and more. Rechargeable 2500 mAh battery. Black.