Description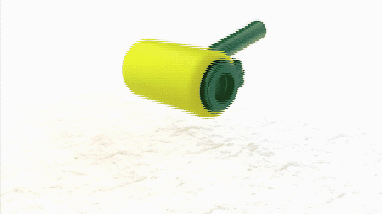 Tired of messy paint brushes, rollers, paint pans, and drop clothes? Not mention the hours of prep time taping before you can even start painting. Then rolling and rolling just to cover a small area. No more! Pour n Paint system is easier, faster way to paint.
Just pour the paint directly into the Pour n Paint roller, snap on the top and start painting. Paint glides on smoothly, evenly allowing you to paint an entire wall or ceiling in minutes.
The innovative distribution system with a seamless micro-fiber head that releases the paint in an even flow with machine-like precision. The flocked edger allow you to get a straight line when cutting into walls , around outlets or baseboard, saving you time and money without masking. And the corner pad for those hard to reach places.
No more climbing up and down latter or messing with dippy paint tray. As seen on TV Pour and paint delivers a smooth, even finish on any surface. Covers in a single coat saving you time!
Pour n Paint uses less paint so you save money.
Say Good bye prep time, drop sheets, taping, mess rollers, paint brushes and paint pans now you can just Pour and Paint to revitalize any wall or surface in just a few minutes. Clean up is a breeze.
It's easy, it's fast, it's Pour n Paint.