Description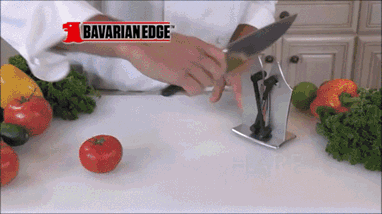 Get razor sharp knives in seconds with the Bavarian Edge knife sharpener. This unique and easy-to-use sharpener brings new life back to your old knives. Based on the Bavarian tradition for quality cutlery, the ultra-hard tungsten carbide sharpeners flex to fit any size knife. Just pull the blade through the sharpening arms to hone, sharpen and polish.
Bavarian Edge features two independent spring- action sharpening arms made of hard tungsten carbide that flex and contour to any blade or angle for the perfect, razor sharp edge. Perfect for smooth or serrated knives.
Sharpen, hone and polish your dull knife blades into razor sharp cutting tools.
Bavarian Edge is compact for easy storage – store in knife drawer or cabinet when not in use.