Description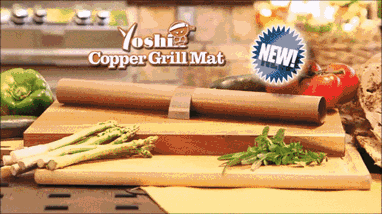 Yoshi Copper Grill and Bake Mat the copper infused, non-stick mat that cooks food evenly while keeping your grill squeaky clean. The useful Yoshi Copper Grill and Bake Mats are perfect for keeping your food off the grill grate while locking in taste.
Can withstand heat up to 500 degrees. Clean up is a snap just throw it in the dishwasher or easily rinse it off with soap and water. Reusable and reversible.
Easily cut to fit any size or shape. PFOA free and made from polytetrafluoroethylene/copper. Measures 15 3/4 x 13"