Description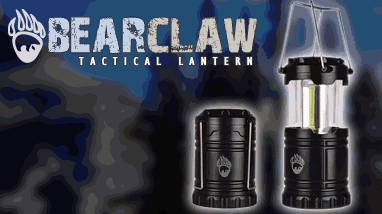 The Bearclaw Tactical Lantern is the brightest collapsible LED lantern you can buy, and the ONLY lantern in its class that can self-charge with a built-in solar panel!
Similar-looking collapsible lanterns use an array of LED bulbs, but don't be fooled by imitators! The Bearclaw's Chip-On-Board LED panel is 50% brighter than bulb-based lanterns, and runs from an internal battery pack that charges by solar panel or 3 AAA batteries as a backup when sunlight isn't available. Yes, you read that right – the Bearclaw Lantern works with both! Charge its internal battery with the built-in solar panel, or supply your own AAA batteries just in case!
In an emergency, the Bearclaw Tactical Lantern is the one you want by your side – it's great for when the power goes out, and perfect for camping, inside RV's or tents, or where gas or propane lanterns cannot be used. It's also great for the kids, and its lightweight design is awesome for hiking or backpacking.
Don't settle for cheap imitators. All Bearclaw products come with a lifetime warranty.